Northeast Generators is an Authorized Kohler Titanium Dealer
New Jersey's Kohler Generator Dealer
Top-rated Kohler Titanium Dealer
For over a decade, the professionals at Northeast Generators have provided the highest standard of excellence in Kohler generator installation, maintenance, service and repair. As the local backup generator experts, we specialize solely in residential, commercial and industrial generators, and are one of the only sources of Kohler generators in New Jersey. Home and business owners trust our knowledgeable technicians to accurately diagnose issues with their existing generators or recommend an efficient Kohler emergency power solution that meets their backup power needs.
Kohler Authorized and Certified Technicians
As a Kohler Generator Dealer, we are certified to provide reliable installation and servicing of all Kohler generator models. Our fully licensed and factory-authorized technicians also have experience servicing all major brands of generators. Our team has earned an excellent reputation for accurately assessing the backup power needs of residential, commercial and industrial clients and providing dependable, cost-effective solutions to keep their home or business running in any weather. When you need reliable generator services, trust Northeast Generators to provide honest customer service and quality repairs that get the job done right. Our family-owned business is committed to providing professional generator services and dependable customer service.
Industrial, Commercial & Whole House Kohler Generators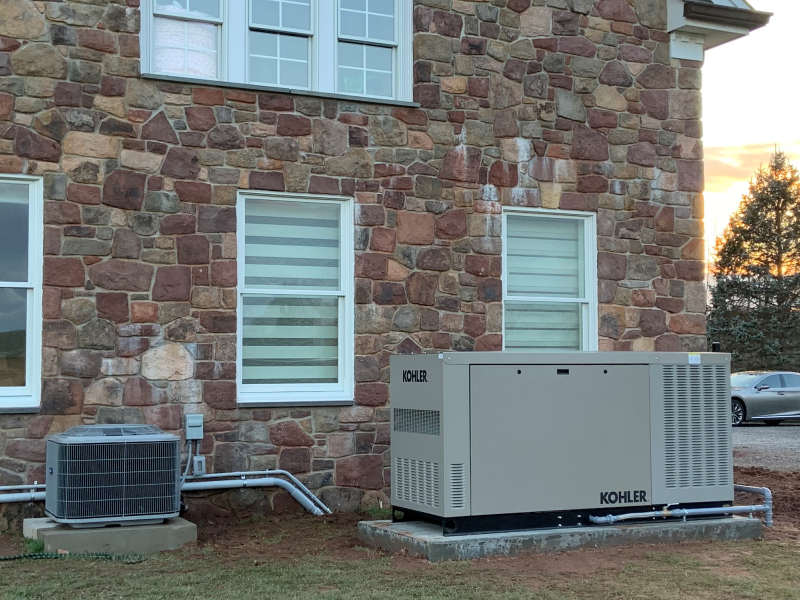 Kohler Whole House Backup Generators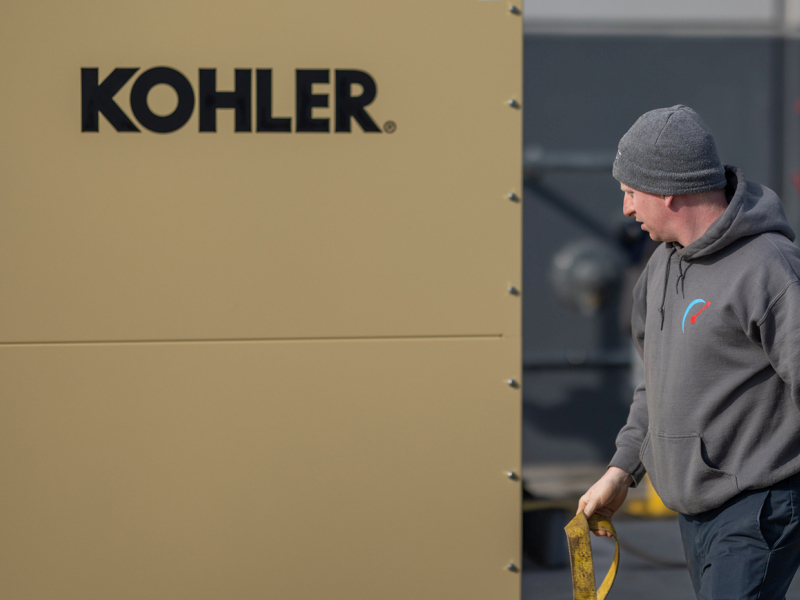 Kohler Commercial Generators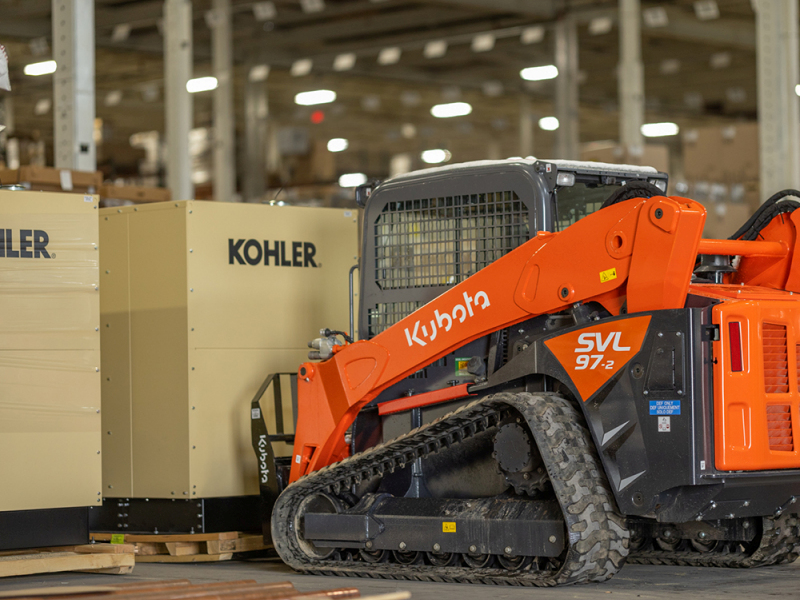 Kohler Industrial Generators
Kohler Reliability and Performance
Kohler generators are renowned for their reliability and performance. With exclusive PowerBoost™ technology, Kohler Generators can provide enough power to keep your entire home running during an outage or storm. These generators come with a 5-year or 2000 hour limited warranty as well as a corrosion-proof enclosure to ensure long lasting performance. Plus, they are powered by commercial grade engines that can handle the demands of standby power. And with Kohler's OnCue generator monitoring system, you can be sure your backup generator is always ready when you need it most.
Remote Generator Monitoring You Can Depend On!
OnCue is a generator monitoring system available for Kohler generators that provides alerts via email, text message, or push notification for generator starting and stopping, faults, and notifications. It also allows for remote control of circuits connected to the Programmable Interface Module (PIM) so you can monitor your home's power consumption. OnCue Plus wireless features allow monitoring from anywhere with an internet connection via a computer or mobile device and allows Northeast Generators to monitor multiple generators for you and clear faults from a remote location. All communication is secure and encrypted for added privacy. With this system in place, you can trust that any potential generator malfunctions will be caught quickly by Northeast Generators, helping you avoid a power outage emergency. No need to worry about generator maintenance or managing backups - Northeast Generators has you covered!
Why Home and Business Owners Have Made Northeast one of the Country's Top-rated Kohler Generator Dealers
Northeast Generators provides NJ homeowners and businesses with dependable generator maintenance, service, and repair for all brands of whole house generators. Northeast Generators is a Kohler Titanium Dealer certified to provide reliable installation and servicing of all Kohler generator models, and we are one of the few suppliers of Kohler generators in New Jersey. Our team of technicians are experts in installing top-rated Kohler emergency generators to provide homes and businesses with reliable backup power systems. Home and business owners can trust that our generator company will provide them with the most dependable solutions!
Generator Expertise - Experienced Kohler Generator Distributor
Northeast Generators is the go-to provider for emergency generator installations, maintenance, service and repair. As a gnerator distributor, we specialize in residential, commercial and industrial generators and have been doing so for over a decade. With our expertise and specialized knowledge, we can quickly diagnose problems and make repairs to extend your generator's life span. Our team will save you time and money by avoiding unnecessary replacement costs whenever possible. Count on us for reliable solutions with same-day service when you need it most. No matter what type or brand of generator you own, Northeast Generators has the experience to get the job done right. Contact us today to find out more!
Expert Equipment Installation
Residents and business owners in the New Jersey area trust us to professionally install reliable Kohler generators for their homes and businesses. Our team of experts ensure that our installations are top-notch, so you can have peace of mind knowing you'll have access to power when you need it most.
Worry-Free Maintenance and Repairs
Our preventative maintenance plans help keep your generator running in peak condition throughout the year. This includes regularly scheduled checkups, oil changes and filter replacements along with comprehensive detailed reports after each visit. We also offer emergency repair services 24/7 to keep you covered when you need it most. No matter what service or maintenance needs you have for your generator, we are here to provide you with reliable and timely service that keeps your equipment running optimally.
All Major Brands
Are you aware that even after your electrician or contractor installs an emergency backup generator, the initial start-up needs to be performed by a factory-authorized technician in order for you to receive the most coverage from your warranty? All Northeast Generators technicians are factory trained and authorized to perform initial generator start-ups and service on all major generator equipment brands, regardless of who installed your generator. We can also help you select a suitable generator service plan for your home or business. Furthermore, we're proud to be one of the few sources in NJ for Kohler generators as well as a Kohler dealer – an achievement that only a select group of generator specialists have attained. Make sure you get the best from your generator - rely on Northeast Generators!
Exceptional Customer Service
Your friends and neighbors regularly recommend our team of generator technicians. We've earned a reputation for our superior technical expertise and unwavering commitment to providing excellent customer service. At Northeast Generators, we are dedicated to making sure your backup generator is always in peak condition by providing fast and efficient maintenance and service. Our innovative communication software allows us to easily send seasonal upkeep reminders and automated appointment updates directly to you via email or text. Furthermore, as a small, family-run business, Northeast Generators has built an exemplary reputation among local homeowners and businesses for our honest, reliable pricing and professionalism, make them one of the highest rated Kohler dealers.
24-Hour Emergency Service
The Northeast Generators team is there for you in your time of need, offering 24/7 emergency repair service for your residential or commercial backup power generator.
Be Prepared for the Next Storm
Generating Peace of Mind Since 2011
If you want to help protect your family or business from the unnecessary expenses, medical emergencies, property loss, and inconvenience that an unexpected, prolonged power outage can cause, depend on Northeast Generators to provide you with top-notch emergency power generator installation, maintenance, service, and repairs.
Power Up with Northeast Generators
Call the backup generator specialists at 908-312-7002 to schedule a free consultation.
Contractors, Check Out Our Pro Services Program.